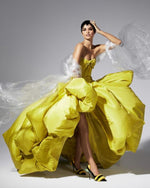 by Fern Baker-Guy, Intrigue Stylist
Among many other industries - restaurants, live entertainment, and air travel to name just a few - fashion sure took a wallop in 2020. While in lockdown we retreated not only to comfort food, but to comfort clothes. Which were definitely related because comfort food + comfort clothes = The COVID 15 (as in lbs.). At any rate, we made it to 2021, albeit with a few extra pounds. Finally, with the loosening of restrictions, we are beginning to emerge from our little comfort cocoon to stick our collective toe into the water of getting dressed in real clothes again. 
The fashion industry is desperately trying to figure out what you are going to want to wear. Will you go back to wearing going-out clothes, or will you want to stay strictly casual? Will you need work clothes? What even are work clothes in this day and age? What about social occasion dresses and evening clothes in general? And the BIG question: is fashion still relevant in a post-COVID world? 
Because I'm a stylist who works at a fashion boutique, it will probably not come as a shock that my answer is an unequivocal yes. Because while our world has changed drastically over the past 15 months, some things will never change, and adorning ourselves has been one of those things since the dawn of time. Whether we dress for practicality or for pleasure, the desire to look good is inbred in our nature. We get dressed for so many reasons. We dress to enhance. We dress to camouflage. We dress to participate in activities. We dress to adhere to social norms. We dress to express our personalities. We dress to impress.  
The different generations will have different ways of weaving fashion into their lives. Boomers and Gen-X'ers will want fun and sophistication. Millennials with young families will need practicality and versatility. And Gen-Z has embraced recycling and repurposing fashion from other decades. ALL will still want to look glam for special occasions. 
For the people to whom fashion mattered before the pandemic, it will still matter. It's in our DNA. We literally can't NOT care about fashion. Other people might not be so concerned about trends or what's in and what's out, but they still want to look good. If either of these describes you, YOU ARE OUR PEOPLE!! We cater to your taste and lifestyle and your desire to look chic. We are here for you, and our stylists love nothing more than creating a single look, or even a whole wardrobe, for you. We have your back...and your front. 
 Xoxo,
The Girls of Intrigue