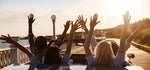 One sign that the world is slowly but surely returning to normal: Intrigue will be closed for vacation the first 2 weeks of July, as we have been every year for the past 10 years-- except last year. (We did not close last year because, well, we had literally just re-opened in June). This time off for us is so important, this year maybe more so than ever. We've been working nonstop since the start of the pandemic, pivoting to create additional ways of doing business; now we need some time to rest and recharge our batteries. When we return on July 19th, we'll be refreshed and ready to finish out summer and bring on Fall!
Curious about how the Intrigue girls are spending their vacation time, and what Intrigue items they'll be packing? Read on!
Debbie: Debbie is headed to sunny Riviera Maya, Mexico (yes, we are very jellie!). Sun and sand will fill her days, with maybe a massage or two thrown in. Her Echo Shibori Caftan will serve multiple purposes and take her from the beach to poolside cocktails. She'll also be bringing her brand new, super comfy Lemon Jelly Gaia sandals; they honestly are like walking on air. Nighttime in Mexico is for food, drinks and dancing, so into her suitcase will go her "I" by Iris Setlakwe Red V-Neck dress (which she'll also wear to an event she has later this summer). Finally, she'll need the sun protection provided by her Shiraleah Vanessa hat  - it's packable and stylish.
Annette: Annette is go-go-go 24/7, so she wants nothing more than to decompress! In addition to some chill day trips, Annette is taking a quick jaunt to the Hamptons to enjoy a dose of glamour with her R&R. And because she might just bump into a movie star or two, you can bet that Annette is bringing her A-game. First on her packing list is her gorgeous blue Jaline 'Katherine' dress with the ivory palm frond print, to wear out to dinner (pictured below). It's sold out now, but not to fear, we're getting restocked with some new colors when we reopen. To look appropriately luxe poolside, she's bringing another Jaline favorite, the 'Lulu' Handwoven Shawl. And she never goes anywhere without her Liza Beth Cameron wrap bracelet - it's a luxe addition to any stack. 
Fern: Yours truly is super excited to finally get to see my daughter and grandkids after a year and a half! (They live in Louisiana and the pandemic kept us apart since  Christmas of 2019). We'll be going to our favorite Jersey shore resort in Cape May. In my own mind, I'm a minimalist who envisions taking nothing but bathing suits, shorts and flip-flops. In reality? Not gonna happen. If you know me at all you know that I'll throw in a different outfit for every evening. I'll definitely be bringing my Asha 'Tamarin Marquis' y mother-of-pearl earrings to wear with, well, EVERYTHING, as well as my Alice and Olivia 'Alta' peasant top to wear with white jeans. And my new Krewe Driskill mirrored sunglasses (obvi!).
Liz: Liz is a city girl through and through. One of the things she'll be doing over vacation is going up to NYC to visit her grandkids. Her wardrobe revolves around black, and she'll be packing basics that can be accessorized with anything from a pair of her designer sneakers to a leather jacket. She's taking the Rails 'The Tank' dress in black - it's a canvas for almost anything, including her Brave 'Doone' black leather & silver chain belt. A lightweight bag that can be worn hands-free is a must, and Liz  will take her Think Royln Petite Bar Bag. 
Sue: Sue's heading up to New Hampshire for an idyllic lake-and-mountain vacation, with swimming, boating, hiking and picnicking on her agenda. Sounds nice, huh? She'll get plenty of use out of her Sanctuary 'Jaden' jeans jacket to throw on on cool nights, as well as her Lola Cruz 'Daudi' woven leather sneakers. On her wrist will be her two Miansai bracelets - the Thin Screw Cuff and the Tricolor Cuff - that go with absolutely everything. 
So that about covers it for us. What about you? Let us know where you're going (or staying) on vacation  - post a picture of yourself in your Intrigue finery on Facebook or Instagram, and tag us @intriguefineapparel in your post. We'd love to see you decked out in Intrigue!
One more thing: don't miss our Summer Sale happening right before we close, on July 1st, 2nd and 3rd. We'll have plenty of markdowns!
~~~ Bon Voyage! ~~~