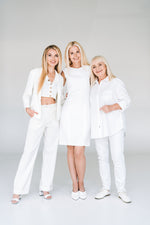 So I've been thinking a lot lately about the concept of age-appropriate dressing. This may be because I'm over 60 and going through, shall we say "changes" in my figure (how long will I be able to blame this extra weight on Covid I wonder?). Plus let's face it, no one is going to tell a 20-something that she needs to dress more age-appropriate. But what does it really mean to dress "appropriately" for one's age? Must one stop wearing short skirts, and if so, when? What about skinny jeans? High heels? It's all so perplexing. 
Many years ago, Bazaar magazine started their monthly feature "Fabulous at Every Age". The idea was to showcase the latest looks translated to each decade of a woman's life - 20's, 30's, 40's and so on. Interestingly, back in the day the decades stopped at 50's. Say whaaat?? This used to make me panic. Did it mean that after our 50's, we stopped caring about fashion? Did we wake up on the morning of our 60th birthday and say, "You know what? I couldn't care less about looking good and being fashionable"? Yeah, right. Not me, and not any of the women I know. 
So, back to Bazaar I turned to see if I could figure out the secret to dressing age-appropriately. 
The first thing I learned was that - yay! - more decades are now represented. The feature now includes dressing in your 20s, 30s, 40s, 50s, 60s, and 70+. Thank you, Bazaar, for finally acknowledging that women over 60 care about looking fabulous.
Next I studied the various styles for each decade, trying to discern the differences. Dear readers, do you want to know what I discovered? There were virtually NO DIFFERENCES. Yes, I am serious. With just a couple of minor exceptions (which I'll go into in a moment), there was no difference to being fashionable at every age. Each decade ran the full gamut - including LBDs, floral looks, graphic prints, bright colors, jeans, short hemlines, long hemlines, trousers, and footwear of every kind. I kept flipping back and forth, staring at the pictures. Could it be that age appropriate dressing is nothing but a myth?
The answer is yes...and no. Confused? Let me explain what I mean:
As we mature, there are inevitable changes that come with each stage of life. Those changes can be to our bodies, our skin, our hair, the way we view the world, and our taste in everything from food to fashion. Even those women who don't seem to age (whether naturally or with "help"), may find that they are seeking a more sophisticated way of expressing themselves through the way they dress. So why not flip the script and talk about what age-appropriate really means? Because it's not about age alone.
Body-Appropriate: First and foremost, you need to consider your shape and what's most flattering. Some of us have maintained our same shape, and some of us have, shall we say, redistributed. Dress accordingly! If your legs are your best feature, show them off in an above-the-knee length. Knees not your favorite body part? There are plenty of midi lengths available, as well as pants of all kinds. Awesome arms? Go bare in sleeveless. Wanting a bit more arm coverage? Floaty sleeves of all types abound, as do kimonos, shrugs and lightweight jackets. No matter your best asset, there are styles that will embrace and enhance it. 
Lifestyle- Appropriate: No one knows your own lifestyle better than you. Are you a social butterfly or a homebody? Do you work outside the home? The needs of your everyday life will certainly figure into your wardrobe choices. Don't buy anything that doesn't fit in with your lifestyle. 
Taste-Appropriate: Ah, the trickiest one of all. We all have an aesthetic when it comes to the way we like to dress. There's feminine, edgy, classic, glam, casual, preppy - the list goes on. What's your style and taste? Most of us have a pretty good idea. But here's where it can get tricky: sometimes we get into a pattern of thinking that we don't want to or can't wear certain looks. I wish I had a nickel for every time I've heard a customer say one of the following:
"I don't do bright colors".

"I can't do prints"
"I'm too old for ripped jeans"
"No ruffles!"
Ladies, let me be clear: If you like any of the above, and they meet your body shape, lifestyle, and taste aesthetic, you can and you should wear them. You don't need to give up your favorite looks. Just adhere to these (very) few simple rules once you are beyond your 30s:
Slightly ripped jeans are fine, just not shredded to within an inch of their lives; that's for the youngsters.
It's hard to pull off "girly" and "frilly" looks beyond a certain point in life. Look for feminine items with a bit more sophistication.
Make sure you are comfortable in whatever you buy, and that it fits properly. If not, you won't be able to pull it off.
Accessories are your friends. Scarves, bags, belts, hats, shoes and jewelry - they not only pull your look together, they sometimes "make" the whole look.
Own your look! Wear it with confidence and you can rock almost anything at any age!
Below, I've gathered some ideas for our own version of Fabulous at Any Age, all shoppable here at Intrigue, where we've been catering to fashionable women of all ages for 33 years. We've dressed 3 generations of women! Grandmothers, mothers and daughters all come to Intrigue for everything from casual looks to special occasions. Browse the looks here, then come in and see them in person. We can't wait to see you soon!
Jaline Handwoven Camila Caftan, $295
Fifteen Twenty Leopard Print Bias-cut Midi Skirt, $165
Lilla P sleeveless white tie top, $98 and Elastic waist jogger pants, $148
Sanctuary So Twisted Tee Shirt Dress, $89
Jen 7 Slim Boyfriend Jeans, $99
Lola & Sophie V-Neck Sheer Layer Top, $145
 Clockwise from Top Left: Echo Striped Hat, $69; Lola Cruz Sneakers in Off-white, $315; Krewe Nylon Sunglasses, $275; Think Royln Wingman Tote Bag in Urban Leopard, $198; Think Royln Diva Double Zip in Black Camo, $138; Lola Cruz Wedge Sandal, $213