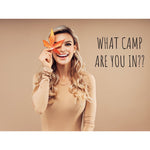 I've found there are two camps of people when it comes to Fall: There are those who eagerly await sweater weather, boots, pumpkin spice lattes, and decorating for Halloween. And then there are those who cling on to every last shred of Summer and have to be dragged kicking and screaming into Fall.
I used to be in the first camp. Somewhere along the line, though, I'm not exactly sure when, I defected to the other camp. Don't get me wrong, I absolutely adore Fall and all its pleasures...warm days and crisp nights, crackling leaves and the smell of fireplaces. The problem is, I just don't want to rush it. Whereas I used to sit on the beach in July and pore over the August issues of Vogue and Bazaar, drooling over the Fall fashion and dog-earring the pages, over time I found myself wanting to live more in the moment and stretch out summer as far as it could go. 
That was all well and good when I worked in a corporate office. All I had to do was not visit my favorite stores until after Labor Day, when I felt more psychologically "ready". Now that I work at a fashion boutique, however, the pendulum is starting to swing back the other way. By mid-July at Intrigue, we start to receive "early Fall" looks. We're talking mainly a transition to a spicier color palette and re-introducing long-sleeve tops and jeans. Nothing super major. Okay, I can do this. Day after day, we receive more and more items. Sweaters start to trickle in. Ooh, they look so delicious. But I stay strong and resist. Then, one day without warning, "they" arrive...the boots. And dear readers, that is when I have to give up and throw in the towel. I can resist no longer. I'm a sucker for a great boot, and man do we have some awesome ones. And just like that, my will breaks and I'm full-on excited about Fall. AND IT'S ONLY AUGUST!!! I swore I wouldn't be this way again. But imagine working at Intrigue and being exposed - all day, every day - to our fabulous merchandise? Trust me, even the most summer-clinging among us would break. 
Just remember, though, there's still the first camp - the one that looks forward to fall fashion like excited kids at an amusement park. Lots of Intrigue shoppers fall into this camp, and they've already been getting a jump on the season, taking advantage of early selections and shopping up a storm. Fortunately, tons of new merch is arriving daily. So go ahead, enjoy the heck out of the last weeks of Summer. Wear your sundresses and sandals, your cut-offs and flip-flops. Just get yourself into Intrigue and treat yourself to a Fall preview. You just may find yourself falling for Fall. Like me.