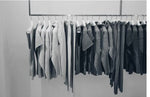 Hi, it's me, Fern - back from vacation and raring to dive back into the coming season! I love helping our guests choose new clothes - whether it's a single special item, a whole ensemble, or even a wardrobe. 
For as long as I can remember, I've loved clothing and dressing up. Through the years, and through all the body changes that I've gone through, one thing has stayed constant: I know what I like. I don't stick to one genre. I love feminine, edgy, classic, modern, patterns, solids, and textures. I don't abide by anybody's rules. I'm, ahem, vertically challenged (aka short). And now I'm "curvy" as well. Instead of saying I can't wear this because I'm too short,  and I can't wear that because I'm afraid my butt will look huge, I just take everything I like into the fitting room and give it a whirl. Let me tell you, I've come out with some unexpected winners, that, had I followed the rules, I would have dismissed. 
But first things first. Anyone can get stuck in a fashion rut from time to time. It happens. You know you're in a rut when you look through your closet and feel completely uninspired; that "I have absolutely nothing to wear" feeling. Or everything basically looks the same. It means it's time to assess, reevaluate, and possibly replenish. These are the basic steps I recommend if you feel you're stuck in a rut.
1 // Clean out your closet. 
Start by cleaning out your closet. If you're not sure where to start, read my blog "Closet Confidential" from January 22nd (type "blog" into the search bar). Take note of each item that you keep and the ones that you discard.  Have 15 pairs of black pants? I'd venture to say that you don't need all of them. While hunting you might be surprised and find items you forgot that you owned. Put your favorite things front and center, so you don't forget to wear them. Once you get your wardrobe in balance, you may start seeing more options that you can put together in new ways. 
2 // Look for inspiration
Do you read fashion magazines anymore? Yup, me neither. I find the editorial layouts impossible to relate to. Instagram, however, has become my go-to when it comes to inspiration. Follow influencers whose style you admire. If you're not sure whom to follow, just look in the Search bar. Some of my favorites (just FYI) are: @highlowluxxe, @iconaccidental, @whowhatwear, and @sincerelyjules. I also follow brands and stores that I like, and they are always a source of inspiration. If you don't already follow @intriguefineapparel, add us to your Insta and Facebook list! We post daily and you're sure to see looks you'll love. 
3 // Allow yourself to experiment
I'm always surprised to hear how many women pigeonhole themselves into a certain style of dressing and aren't willing to step outside the lines. "I don't do _____ " (fill in the blank): color, prints, dresses, sleeveless, v-necks. You name it, there's a woman who "doesn't do it". Why do we limit ourselves in this way? I'm convinced many women are just afraid to break out of their comfort zones and thus become stuck in a style rut. 
Now, don't get me wrong. I'm not talking about the woman who has discovered, through years of trial and error, what her best look is. She knows what works for her body, which is a good thing and something I highly recommend. No, what I'm talking about is the woman who thinks a certain pattern, or color, or style is not for her, either because she's never worn it before, or none of her friends have worn it, or her daughter has worn it, or...well, you get the drift. If you are this woman, I'm here to tell you - if you see something that you admire, whether on the rack, on a mannequin or an actual person - Try. It. On. Let your heart, and your taste, be your guide. What's the worst that can happen? You won't like it or it won't fit, in which case you won't buy it. Simple as that. 
4 // Accessorize, accessorize, accessorize
Another aspect of getting dressed is putting together a "look". Please, I beg of you, don't overlook how accessories can enhance an outfit. Add a belt to a dress and voilà! A different look. A cool pair of coordinating shoes. A cross-body bag. Jewelry. And sunglasses! All of these add personality, style and make your look uniquely "you".
So my advice is, when you do walk into a clothing store, enter with an open mind and open eyes. Look for items that catch your eye. If it's something you need or want (and it's within your budget of course), go ahead and try it on. Trust me, I or any of my fellow stylists here at Intrigue, will give you the thumbs up or thumbs down. As we like to say, if you don't look good, we don't look good! We'll never let you walk out of the store with something that's not for you. Come see us, and we'll make sure you leave feeling beautiful and confident.