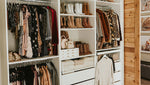 In my last blog post, I was still struggling with the transition from Summer to Fall. Now it's the end of September and I'm finally ready for you, Fall! Thank you for making a last-minute appearance in the nick of time. The season of bright leaves, pumpkins and clear blue skies is sweet but oh-so-brief. Before we know it, it will be winter.
Fashion-wise, at the beginning of the new season the first thing I do is take stock of what I already own. (Ideally I would complete this exercise before the end of summer; however this would have required more advance planning than I was able to muster). But it's never to late, so let's start now.
Readers of this blog will remember when we discussed the art of cleaning out and organizing your closet. If you haven't read it, no worries because we're going to review an abbreviated version right here. The change of seasons is an ideal time to perform this task. Unless you're lucky enough to be the owner of one of those enormous closets (#goals), it's easy to forget from season to season what's actually lurking there in your spare closet(s). It's important to evaluate what you already have before you determine what you want and/or need. So, in brief, you'll need to:
Look in your "summer" closet and see which items can transition into Fall and even beyond. I'm talking things like denim, tee shirts, pants, blouses and skirts in colors that can make the transition. Pull those things to one side.
Remove anything that screams "Summer!" such as super-bright or pastel prints, white dresses, etc. Even if you have a huge closet, you might want to set aside a section for off-season clothes. I find it distracting to have a mish-mash of seasons occupying the same space. The goal is to curate your closet so that it becomes easy and even pleasurable to get dressed for any occasion.
Do the same thing with your footwear. For example, I have a couple pairs of boots that stay out year-round, and likewise a few pairs of pumps and strappy sandals. Everything else gets put away for the season. So for Fall, out come the boots, back go the sandals.
Now go to wherever you keep your fall/winter wardrobe. Look through everything. Pick out the items you want to wear this upcoming season.

Be selective

. This is important. Personally I do not subscribe to the "rule" that if you haven't worn something in a year, get rid of it. I think that's utterly ridiculous. I have "retired" certain items that for whatever reason I'm not in the mood to wear, and brought them out again a year or more later. I call these the 'backburner' items. In this way I'm constantly recycling my wardrobe and it's like discovering a new/ old friend. The only rules are it has to be something you love - maybe right now it doesn't feel as on-trend as it once was - and something that fits. I do not advocate keeping things that no longer fit. Get over it. If you ever do lose those 5, 10, or 20 lbs, you'll buy new stuff.
If you don't have any available spare closets in which to store off-season or 'backburner' items, consider investing in other methods of storage. There are plenty of options available that will store your stuff quite nicely.
By the way, true story: I saved my rust-colored suede clogs from the '70's! Why? Because I loved them and could not bring myself to part with them. It took 4 decades (!!!), but they are now back in style and very much on-trend. I am so tickled about this and am high-fiving myself no end. (I have also saved other stuff from way-back-when that I know I'll never, ever wear again in this lifetime, but they are just too good. I really should give them up, I mean what am I going to do - open a fashion museum?). But I digress. Back to the matter at hand...
It's now time to organize. How you organize your closet is a personal matter. It's really whatever works best for you. Some people organize by color, some by item type, sleeve length, occasion, you name it. I've tried every method over the years and I've finally settled on one that works well for me. First I section by item type - pants, skirts, jackets, dresses, dressier tops, sweaters and tees all have their own section. Then I keep a separate section for entire outfits that I've put together. For example, if there's a skirt I want to wear with 2 different tops, I hang all 3 together. If there's a belt I want to wear with a specific dress, I hang the belt from the dress hanger. I do this for two reasons: (1) So I'll remember what I want to wear with what. You may think you'll remember, but you won't unless you do this or take pictures. I used to take pictures but I find that this way happens to be easier for me. (2) So on mornings or evenings when I'm in a rush, I have ready-made outfits there for the choosing. 
Did I mention that my main closet is a small walk-in? That's why tight editing is key.
Ask yourself, what's missing? Is there an item you don't have that would pull a whole look together? Update last year's look? Give a new twist to an older item? Make a list. 
 Go shopping. Preferably at Intrigue. Wink wink. We have SO much in store right now. We get boxes upon boxes of new merch every day. There's sure to be something here that will be the perfect addition to your wardrobe.  
A quick note: Writing this blog inspired me to complete this task yesterday, on my day off. I'm not gonna lie: it takes time and it is tiring, especially if you have a lot of clothes and shoes like I do. But the feeling of satisfaction, accomplishment, and renewal that you get is so worth it. I have to admit I kept walking into my closet and admiring the fruits of my labors.
So I would say to you, make sure you have set aside adequate time to finish the task, because once you start it's hard to stop. If you don't have the luxury of a chunk of time to devote, then figure out how you can divide it into smaller steps: maybe shoes one day, hanging clothes another day, and folded clothes a third day. This is how I did it back when I was working full time. Now I do it all in one day and boy is it exhausting, but it's one and done.
Need some fashion inspo? Scroll down for a few of my personal favorites.
Lola Cruz Denae Brown Suede Wedge Bootie
What is it about rich brown suede that's so delicious? Maybe it's the chocolate-y goodness. But whatever it is, the ideal Fall bootie has arrived at Intrigue. With a comfortable wedge heel, rubber sole, and decorative strap, this bootie will elevate so many looks from jeans to skirts to dresses. You may want to consider snagging these before they're gone.
This coat has so much going for it besides the alliterative name. It's a camel/black/ivory plaid 3/4 length with fringe at the bottom - it defines classic-with-a-twist. And it's surprisingly versatile. Wear it with solids in black, camel, ivory, gray or denim. 
Minnie Rose Cashmere Blend Turtleneck Popover (available in-store only)
I know, you thought a popover was a pastry treat, but in this case it's another term for kind of a shortened poncho. You can literally pop it over anything (hence the name) like a dress, jeans and a tee. It's a very chic layering piece. 
JS71 Miami Taupe Marble Sweater
Coffee and cream tie dye, with just enough distressing throughout to make it fun but still practical. To me this is the perfect complement to a pair of medium wash jeans and those yummy Lola Cruz brown boots.
Cut like a classic jean jacket but made from the coziest faux shearling, this fully lined jacket is such a fun look for daytime. 
Kokun Doubleface 4-Sqare Cowl Sweater
I can so picture wearing this with slim black ankle pants such as the Commando 9-to-5's, and a chic pair of flats. It's incredibly soft and cozy. 
Ecru Black Leather Military Moto Jacket
Here's the ever-essential black leather jacket with a military-style twist - double breasted gold-tone buttons. It's almost impossible to count how many looks this jacket will pull together, from jeans to dresses.
~~~~
So there you have it. I truly hope that my advice and tips prove helpful to you. And when it's time to shop, come visit us at Intrigue.