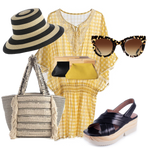 Over the past month, I've noticed that many of our guests are jetting off to somewhere warm. If you're one of the lucky ones planning a vacation, good for you! I am jealous. But I'm also happy for you, truly. So to show there are no hard feelings, I'm going to share my ideas for a perfect capsule wardrobe for your getaway. Because really, there's nothing worse than stressing over what to pack. Unless it's over-packing; overpacking is definitely worse. Ideally you want a few key pieces that share a color story and can be worn in a variety of combinations and contexts. At Intrigue, we have everything you'll need except the bathing suit (we don't sell bathing suits, because we love you, dear guests, and we don't want to put you through that kind of trauma). After all, this is your happy place!
We've been getting in tons of vacation-ready items to take you from head to toe, day to night. If it were me packing, here are the 10 items I would take, starting from the top:
These 10 items (plus your bathing suit and flat sandals) should see you through a long weekend getaway, in comfort and style. If you're going away for longer, maybe throw in an extra top and dress. When it's my turn to go away, I promise I will try to practice what I preach (I am a notorious over-packer). So come and visit us at Intrigue before your next trip! We're here for you in-store and online!