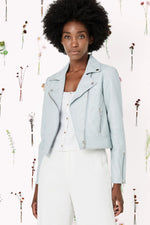 Once Valentine's Day is over, we enter what I refer to as "the dead zone", or the mid-winter slump. The groundhog has graciously informed us that there will be six more weeks of winter (thanks a lot Mr. Groundhog, as if we didn't know that). We're at that point where we're getting a bit tired of our fuzzy sweaters and cozy fleeces. By March, I am literally ready to burn my parka in the backyard (I threaten to do this every year but of course I never do because, well, I'm not cray-cray). But what to do? There's snow on the ground and Spring is still 6 weeks away...
Enter transitional dressing. You don't need to ditch all your winter gear just yet. I'm  going to give you a few tips that work for me when I'm longing for Spring but it's still freezing out.
Black and White is Always Right
During the change of seasons, wearing black with white, ivory, or beige feels fresh. This is one of my foolproof tricks for both early Spring and early Fall. It can be as simple as pairing a white top with your black pants, and throwing on a black blazer, sweater or jacket. Another option I love is a black and white animal print. On my wishlist are this snakeskin top and pants by Fifteen Twenty. It gives you the look of a jumpsuit with the versatility of separates. For instance, I would wear both pieces now with a black blazer (or a black leather moto jacket), and tuck the pants into ankle boots. Eventually I'll switch the boots out for strappy sandals, ditch the jacket, and maybe swap the matching cami for a solid black top. So many options! Another outfit you can wear right now is Lola & Sophie's animal print halter top and black drape-front jacket. (Confession: I already ordered these!). The jacket is lightweight and drapes beautifully. My "now" look will include denim jeans and boots; my "later" look will be white jeans and metallic sandals.
Cleanse Your Palette
Time to ditch the fall and holiday palettes and embrace brights and pastels. I love the autumn colors, but by February they just feel all wrong. As do tartan plaids. At the moment I'm gravitating towards citrus shades and pale blue. I can't wait to wear this pale blue leather moto jacket from Ecru. I'm going to wear it now over a white tee, with black leggings and moto boots. When Spring actually arrives I'll throw it over my favorite slip dress or silky skirt. I'm also crushing on this tangerine peace sign sweater from Lisa Todd. Just super cute and refreshing! 
Layer Up
This is really the glue that holds the whole concept of transitional dressing together. Keep your winter pullovers, cardigans, and jackets at the ready – you'll need them to stay warm. Just pop them over a floral dress or silky skirt, put on your favorite boots, and voila! A fresh take. I've recently discovered the joy and ease of layering a black pullover sweater over a slip dress. You get the look of a sweater and skirt without the restriction of a waistband. It's a win-win!
Want to know how I combine all 3 looks? I have a favorite silky skirt in a pattern of pastels + ivory + black. It looks just as awesome paired with a black sweater and black suede boots as it does with a tee shirt and mules. When you stop into Intrigue, chances are good you'll see me in this outfit at some point!
So have some fun and experiment with what you already have in your closet. Then stop in and see us at Intrigue for a few new pieces that are on-trend. You'll be surprised at the variety you can come up with. If you feel unsure about what looks good, bring your item(s) in to the store, and it will be our pleasure to help you style them. In the meantime, stay warm and we'll see you soon!
~~~~