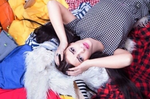 "Opening up your closet should be like arriving at a really good party, where everyone you see is someone you like" – Amy Collins.
 Ah, closet #goals we aspire to! Most of us fall into one of two camps where our closets are concerned. It goes something like this…
Camp 1
Your BFF: Let's look in your closet!
You: Sure, come on in! Welcome to my holy shrine!
Camp 2
Your BFF: Let's look in your closet!
You: Um, no. I'm really sorry, but it's a total mess. I mean I was gonna clean it, but then I got busy, so you know…
 So, there you have it. If you're in Camp 1, feel free to stop here. Your closet is already living its best life. If, however, you happen to fall into Camp 2, read on as this blog is for you.
 How to Get Started
Honestly? This is the hardest part. You are going to take one look and feel overwhelmed. Stop. Take deep breaths. Dive in.
 Step One
I'm sorry to tell you this, but you're going to have to try stuff on. Start by removing – or sectioning off – everything that you wear on the regular – your tried-and-true items that you know look great and that you always reach for.
Note: If you have a rolling rack, this step will be a LOT easier. If you don't have one, do yourself a favor and buy one (they are under $20).
 Step Two
Now, what should be left are those things you're less sure about. Does it still fit? And if it fits, does it still look good?  When in doubt, you need to try it on. In front of a full length mirror. You will know pretty quickly whether an item goes into the "Keep" or "Give Away" pile.
It should be mentioned that if anything looks worn, damaged, or hopelessly outdated, or if you say to yourself "what was I thinking?" it all goes in the Give Away pile.
Step Three
You should at this point be left with all the stuff you like and that fits. GREAT START! Now it's time to ask yourself the age-old question: What can I wear with that top/skirt/pants/dress? Do you have the right items to complete a "look"? And by "look" I mean the complete getup. For example, you love those amazing black pants that make you feel like a million bucks – but what top looks great with them? What kind of shoe? A pump or a boot? Accessories? I strongly recommend putting at least one complete outfit together for each item. Two is even better. Snap pictures. Create a folder in your phone called Outfits. I have done this and trust me, it's been a lifesaver on those mornings, or evenings, when I can't dredge up any outfit inspiration. Voila! All the inspiration you need, right on your phone.
 What if there's an item you absolutely love but you have nothing to go with it? Or what if you realize that your wardrobe is missing a key item like a great jean or pair of black pants? It's time to create a list and go shopping. Now you're shopping with a purpose. You're on a mission.
 The Finale
You're almost there. Your ideal closet awaits. You've weeded out the stuff that's no longer working for you. Now you just need to "fill in". Intrigue to the rescue! Here is a list of five "Must-Haves" that belong in every stylish woman's wardrobe, and you can find them right here at Intrigue.
 1. The Perfect Jean
The
Frame 24-Hour Jean
is the one you need. They're a wardrobe chameleon. They're as comfy as your sweats, but look sexy as heck. Designed for all-day wear, these jeans have been acknowledged by the FDA as a wellness product, providing improved posture, muscle oxygenation, micro-massages, and increased circulation. How's that for bang for your buck!!
Note: These jeans are so popular that we only have one pair left! To be added to our list for the next order, call us at 215-794-0422.
 2. The Perfect Legging
ANY of the Commando Leggings will fit the bill. From the
Butter Skinnies
to the
Perfect Controls
, Commando leggings are as comfortable as they are flattering.
 3. The Perfect LBD Alternative
Wouldn't it be great if you could find a black dress that you could dress down with sneakers, dress up with a sandal, or lounge around your house barefoot? We have your answer! Only it's not a "dress" per se, it's this Commando Butter Jumpsuit and the only limit to how many ways you can wear this is your own imagination.
 4. The Perfect Jacket
Lots of stylish women are fans of the "third piece". What's a third piece? It's that one thing, such as a jacket, that you throw on to complete your outfit and pull everything together. This
Lola & Sophie jacket
, new in store, will be your new wardrobe MVP. Layer it over a tee, a blouse or even a dress.
5. The Perfect Top
Which brings us to our last must-have….the perfect top. Even if you're not going as many places as you used to, you still need a top that makes you feel feminine and maybe a tiny bit fancy. Look no further than this new
Lola & Sophie mockneck
halter-style blouse. It checks all the boxes: Flattering? Check. Versatile? Check. Black/ivory animal print? Check and check!
 ~~~
We hope we've inspired you to organize your closet for maximum efficiency. We're no Marie Kondo, but if it "sparks joy", all the better! And when you're ready to shop, we are here for you, in-store and online at
www.intriguefineapparel.com
.