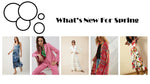 Intrigue customers come in all ages, shapes and sizes. But if there's one thing they all have in common, it's the desire to look timelessly chic while still staying on-trend. These women are no style slouches; they often ask us what's "in" for the season. And while it's true that many looks remain stylish and relevant from season to season, there are always a few trends that emerge. Of course, not all trends are embraceable by our clientele (I'm looking at you, low-rise pants) and you will not see these items at Intrigue. Rather, we select the best and most wearable of the trends and bring them to you. We've rounded up 5 of the biggest trends we are embracing here at Intrigue.
As a starting point, if there's one overarching theme it's that Spring 2022 is the Season of the Dress. Dresses are everywhere, in every length, style, color, pattern, fabric and fit. Please don't think of them as only for special occasions; they check so many more boxes. Need a reason to consider the dress? Here are 4:
Dresses are the original "one and done" outfit, making your life easier because you don't have to match your top with your bottom.
They are comfortable - no fussing and tugging and re-tucking.
They keep you cooler than pants in the Spring and Summer. 
They elongate your look (and who doesn't want that?). 
So with this in mind, here's a sneak peek at the top 5 trends that you'll be seeing at Intrigue this Spring....
Color Pop
After a cold (and let's face it, kind of gloomy) winter, bright colors are a sight for sore eyes. What better way to jump into Spring than a pop of color? Actually, more than a pop; these clothes are soaked top-to-bottom in beautiful saturated hues. Choose from solids, stripes, geometrics and tropical florals. You'll get happy just looking at them.
The New Neutrals
If bright colors aren't your jam, you're in luck. Neutrals are big this season, and they go beyond the same old beige and tan. We're seeing florals and patterns done in pleasingly neutral palettes, and the introduction of more rich brown tones to spice things up. 
Pretty in Pink
It's hard not to love pink. It's a universally flattering hue, whether in the palest of ballet pinks or the richest of fuchsias, not to mention everything in between. Pink will make you feel, well...pretty. This season you can get your dose of pink in head-to-toe looks or in a splash of print. 
Forever Blue
Nine out of ten people will tell you that blue is their favorite color. And there's a good reason for that. The brain finds shades of blue to be soothing as well as attractive. Blue plays nicely with so many other colors, and comes in endless hues from baby blue to navy. And let's not forget about denim, our perennial favorite. 
Feminine Florals
Let's hear it for florals! This season florals are being shown in every size and design. There are garden-party prints, splashes of floral on a solid background, tiny ditsy print florals, and tropical florals in sunset colors. Indulge in this garden of earthly delights!
We are so excited about our Spring and Summer merchandise! There's lots already in store and arriving daily. Everything we've given you a glimpse of here is either already in store or will be arriving soon, some things as soon as the next few weeks. Keep a close eye on our social media, as Annette always posts what's new as soon as it arrives. In the meantime, stop on by and check out what's already here. See you soon!