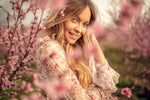 SPRING is all about RENEWAL! And this season, we are ready, more than ever before, for a change. A turn of seasons, in more ways than one.
Here at Intrigue, we are moving forward into the birth of change. Out with the old and in with the new. We are so beyond ready for a rebirth. With rebirth comes fresh, new, fun, and inspiring movement.
First thing that comes to mind is COLOR! Color pops of all sorts. A rainbow of choices has arrived both figuratively and quite literally. Spring fashion has landed and boy is it mood boosting! Think righteous reds, zesty oranges, punchy pinks and alluring blues. Whatever tickles your fancy.
These energetic looks will instantly catapult you out of the winter blues and into the jolt of fresh, sunshine! The Spring holiday season is right around the corner. Think of the last two years and the limits we had around expression. Both at the dinner table with limited conversations… and yes, our expression of personal fashion. This year we are all BACK and its time. Those long awaited dinner dates, holidays with the family and walks around town, are back. And we are back. With a vengeance! Who's ready to be in your best skin, feeling beautiful, wild and free?
Let's talk Dresses. Dresses have always been the purest form of expressing femininity. If long and floral is your personality - check this out:
Hutch Kiera Dres
s. The sleeves, the color combination, and the wrap, it's Easter Sunday, but it's also Saturday evening dinner on the river in New Hope.
If mid length is your jam, check this out.
Misa Los Angeles Nora Dress
 Look at the gorgeous pastels in this flowing beauty!
Want to show off those legs? How about this stunner from Generation Love? 
 Generation Love Milano Chain Dress
It's sleek and sophisticated.
We love fashion. We've been here for 35 years and counting! We know what we're doing and we are here to assist you. Think of us as your personal stylists! We do the leg work. We head to NYC and navigate all the best markets, and we bring that colorful, commanding fashion, here, to Bucks County.
So grab your shades, 
Diff
and
KREWE
sunglasses, call ahead to make an appointment or just walk right in. Spring 2022 is here and it's TIME. Time for us all as to leap forward…. We're ready for ya! 
By Danielle Gannon (Local Spotlight with Danielle)