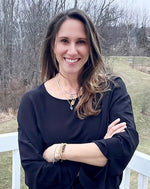 When it comes to jewelry, Intrigue has always been known for carrying a diverse selection, from well-known brands to less widely-known unique designers. But one of our favorite things to do is bring you collections from designers who are local to our area. Currently we are carrying collections from no fewer than 3 designers who all hail from Bucks County. In honor of Valentine's Day, we are happy to be holding a Trunk Show on Saturday February 12th featuring one of those designers, Erin Steele Jewelry. 
We've been carrying Erin's designs here at Intrigue since June of 2020, and in that time she's built quite a following for her unique designs. We thought it would be fun to sit down with Erin and ask her some questions about how she got her start and what inspires her.
FBG: Hey Erin, it's great to see you!
ES: Great to see you too, Fern!
FBG: We know you're local to Bucks County. How long have you lived in the area?
ES: I've been a Bucks County girl my entire life as a matter of fact. I've lived in and around the Doylestown area for the past 19 years. I love the small-town feel of towns like Doylestown and New Hope, but with the proximity to both New York and Philadelphia. It's really the best of both worlds.
FBG: What made you decide to start designing and making jewelry? 
ES: Well, I used to work at a couple of local fashion boutiques. And over the years, I found that what I was buying the most was jewelry. In fact my husband commented that he thought I had more jewelry than anyone he knew...
FBG: Wait, don't all husbands say that? 
ES: (Laughs) yes! Yes they do. But after hearing that a bunch of times, it hit me that he was right and that jewelry was my true passion. As well, I had been a stay-at-home mom since the birth of my daughter Chloe in 2014. Chloe had just turned 3 and I was itching to get back to work, but I needed the kind of flexibility that most jobs don't offer. That was when I had my "a-ha" moment and decided to pursue designing my own line of jewelry. 
FBG: What were some of your first pieces?
ES: The very first piece I ever made was a bracelet with a rhinestone "LOVE" bar with oxidized silver chains. I still have it to this day and still wear it. The first pieces I created to sell as a collection were my Swarovski crystal bullet necklaces. 
FBG: Wow, they both sound amazing. Maybe you should bring them back! 
ES: Funny you should say that! The truth is that I am very much considering doing another small collection of the crystal bullets, exclusively for Intrigue. Stay tuned! 
FBG: Where do you get your inspiration when designing a piece or a collection?
ES: My inspiration stems mainly from my love of fashion and wanting to enhance the looks I love with jewelry. But I'm also deeply inspired by vintage and antique pieces that you'd find in older styles of jewelry. I just like the contrast of elegant vintage looks paired with something like jeans and boots. I have kind of a "rock and roll" aesthetic and everything I create needs to be able to pair with jeans as well as it pairs with dressier looks. 
FBG: How would you describe the style of the woman you're designing for?
ES: I design my pieces for the woman who appreciates classic looks that won't go out of style, yet seeks that bit of edge to stand out from the "too traditional".  
FBG: Well, Erin, it's been great talking to you. We're looking forward to seeing you at your Trunk Show on February 12th. We're excited about the new pieces you'll be bringing! 
ES: Thanks Fern. I'm excited too. See you soon!
PSA: Come check out Erin's jewelry and meet Erin at Intrigue on Saturday, February 12th from 11 to 4 (the store is still open 10-5).