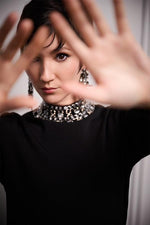 'Tis the season to shop til you drop! Each year, Intrigue gears up for the holiday season to be prepared for our clients! We know our ladies all too well, and when it comes to shopping, they want one for their loved ones and one for them! We do a little of this and a little of that. A scarf for you and a scarf for me!

This season, we are lined with dresses and party wear! Whether it's a formal gathering, a holiday party, a home party, or the holiday itself…. We, of course, have you covered. Think sparkles and feathers, sequins and metals. All the glitz and glamour for the most beautiful time of the year.
The holiday season makes us think about color! Jewel tones like greens, reds, pinks, silvers and golds. Texture like velvet and sheers. Feather cuffs adorn some of our tops and are removable for that dual look & purpose top! Cashmere sweaters are a personal favorite.
"We are so excited about this year's gift selection!, states Annette. "We have something for all price points!"
When it comes to gifts, think quality over quantity. That is precisely what Debbie & Annette had in mind when they stocked up for gifts this season.
For gifts under $150, imagine picking up a beautiful pair of cashmere slippers wrapped in a nice bow. Or a robe from
Dervis
etched with gorgeous color and pattern, or local jewelry from Erin Steele or Sconset Flair. Scarves… we have many styles, with all different designs.
For the Splurge gift, we have those too! We just got a line of luxury "My Name is Ted" handbags from Ireland. SABBAI handbags are handcrafted, created of leather made in Columbia. Then there are Whiting and Davis bags; these mesh metal bags have been a staple in fashion for generations.
Liza Beth Jewelry uniquely balances edge with delicacy. Her pieces are distinct, diamond-accented, and encrusted, often with a chain link. Men, you can't go wrong with a Liza Beth piece for your lady!
All of the above designs are perfect for adding a touch of glamour to your holiday ensemble and gifting that special someone in your life a gift they won't forget.
Friends, we are less than 2 months away from Christmas and even less time away from Thanksgiving & Hanukkah. Holiday party invites are already out, and shopping for loved ones has begun!
Stop in to see us. We carefully curated all the items in the shop to impress you ♥️ And ladies, don't forget, we have a "wish list" in-house. A little book behind our register that is alphabetical and lists our customers' greatest wishes! Let's fill your page, and then all you have to do is send hubby over. Don't leave your family member guessing. We got the rest 😉
Holiday season is upon us! We are here for you.
Gifts, Dresses, Jewelry, and more.
Up coming Events...Small Business Saturday, November 25th 10-5 featuring our in house jeweler Christie Lefebvre of Sconset Flair Studio.  Holiday Open House, Thursday, November 30th 10-6 with local jewelry designer Erin Steele.
Annette & Debbie
Xo