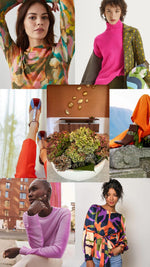 As the leaves begin to transform into a mesmerizing array of warm hues and the air turns crisper, fashion enthusiasts are eagerly anticipating the arrival of Fall 2023 and the fashion trends it brings with it. Nestled in the heart of Buckingham, Pennsylvania, Intrigue Fine Apparel boutique is poised to showcase an exquisite collection that captures the essence of this season's color palette and fashion trends.
A Tapestry of Colors: Fall 2023's Palette  This fall, nature's vibrant palette takes center stage in fashion, mirroring the rich tapestry of colors that adorn the world outside. The color trends for Fall 2023 evoke a sense of comfort and warmth, while also embracing innovation and creativity.
1. Earthy Elegance: Deep olive greens and rustic browns are key players this season, resonating with the changing landscape as trees shed their leaves. Intrigue Fine Apparel's collection will feature luxurious dresses and separates in these earthy tones, offering a perfect blend of sophistication and natural beauty.
2. Radiant Reds: From fiery crimsons to muted maroons, red remains a steadfast favorite this fall. It's a color that exudes confidence and passion, making it a must-have for every fashion-forward individual. Intrigue's curated selection of red-toned accessories and outerwear will add a dash of boldness to any ensemble.
3. Dreamy Blues: The serene blues of the season reflect the clear autumn skies and the tranquility that comes with the changing seasons. Intrigue's Fall 2023 line-up will include cozy sweaters and elegant scarves in shades ranging from serene aquamarine to deep navy, allowing you to effortlessly infuse your wardrobe with a touch of calm.
4. Warm Neutrals: Classic beige, creamy camel, and soft taupe bring a sense of timeless elegance to this year's fall fashion. These neutral tones serve as versatile foundations for layering and accessorizing, and Intrigue Fine Apparel will present a selection of luxurious outerwear and stylish basics in these hues.
Fashion Forward: Silhouettes and Styles  Fall 2023 fashion isn't just about colors; it's about embracing silhouettes that evoke both comfort and creativity. Here, at Intrigue, we are all set to offer a collection that encapsulates the season's most captivating styles.
1. Layered Luxury: As temperatures gradually drop, layering becomes an art form. Intrigue's fall collection will feature lightweight knits that are perfect for layering, allowing you to mix and match textures and styles to create your unique ensemble.
2. Modern Vintage: This fall, nostalgia meets contemporary as vintage-inspired pieces receive a modern twist. Think structured blazers with intricate embroidery, midi skirts with a touch of whimsy, and accessories that harken back to eras gone by. Intrigue's selection will give you the opportunity to blend the best of both worlds.
3. Tailored Comfort: The fall 2023 runway was dominated by tailored pieces that prioritize both style and comfort. From wide-legged trousers to oversized blouses with intricate detailing, Intrigue's boutique will be stocked with pieces that seamlessly fuse sophistication with ease.
Complete Your Look: Accessories and More  No outfit is complete without the perfect accessories, and the stylists here at Intrigue, understand the importance of these finishing touches.
1. Statement Accessories: Chunky, eye-catching accessories will be all the rage this fall. From oversized earrings to bold belts, these statement pieces can elevate even the simplest of outfits. Intrigue's selection will allow you to experiment with different styles and add a touch of drama to your look.
2. Luxurious Textures: Fall is synonymous with cozy textures, and Intrigue's accessories collection won't disappoint. A little sparkle, a little shine, a little luxury clutches to cashmere scarves, these indulgent textures add depth and dimension to your ensemble day or night.
As Fall 2023 approaches, the excitement is tangible at Intrigue. With an exclusive collection that celebrates the season's color trends, silhouettes, and accessories, the boutique is all set to help you curate a wardrobe that embodies the spirit of fall while showcasing your unique style. Whether you're drawn to earthy tones, rich reds, dreamy blues, or warm neutrals, Intrigue's Fall 2023 collection promises to be a delightful blend of sophistication, comfort, and innovation. Get ready to embark on a sartorial journey that captures the essence of fall's enchanting allure.
Come, let us style you!
As Always, Annette & Debbie
~ Danielle Gannon, Local Spotlight with Danielle