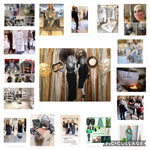 Well, we made it. We've finally kicked 2020 to the curb. We daresay that, had we known at this time a year ago what lay in store for us, we would simply not have believed it.
So let's take a look (not so far) back at 2020…and focus on some of the positives. Because there were some bright lights in the midst of the darkness. Not the least of which is the loyalty and support of our cherished customers. Here's a month-by-month "Diary" of our year.
January
We kicked off the New Year with high hopes and excitement – a new decade! the Roaring Twenties! 20/20 vision! It's going to be the best year ever! Our winter sale is in full swing, and new Spring merchandise is arriving daily. Evening wear and anything with sparkle and shine is flying off the shelves.
February
Getting more and more excited for Spring as merchandise continues to flood in. So much goodness! Towards the end of the month we start to hear inklings about a "novel corona virus" – what the heck is that? Oh, but it's only in China. Wait, it's made it to Seattle? Do we need to be concerned? Never mind, women still need and want new clothes and accessories. We're good!
March
Still moving full steam ahead as we head into March, but signs of changes ahead loom. Almost overnight, the virus starts spreading steadily and stealthily throughout the country. Then, on March 17th, we along with thousands of other businesses deemed "nonessential" are forced to shut down for what we think will be 2 weeks. (Personally, we think we're totally essential but that's another story). We "pivot" to selling via Facebook, Instagram, email and phone. The "Intriguing Box of Style" is born, and so is "Shop the Rack". It's only for 2 weeks. We can do this!
April
Still closed. Boo! Are you kidding? Is this the new normal? We sure hope not, but we want to be prepared to weather any storm. Our customers have always loved coming into our boutique and hanging out with us, but due to the shutdown, that whole dynamic has changed. We're not sure when it will end, so behind the scenes, we are hard at work giving birth to a website. All the while we're still selling virtually, with free shipping or curbside pickups. Annette's Shop the Rack episodes are a huge hit!
May
Light at the end of the tunnel! We hear that if all continues to go well, Pennsylvania will move into a "yellow phase" in which non-essential businesses can re-open with new safety precautions in place. We're jumping for joy, looking forward to re-opening! Our website, intriguefineapparel.com, is launched! Now we are a "hybrid" business (who knew?).
June
June 5th. We're yellow!! With great joy, we open back up our doors and welcome our guests.  Everyone is so happy and relieved that (it appears) the worst is behind us. We're all welcoming the sunshine and warm weather, and of course, new clothes! Our famous event evenings become day-long or week-long open houses, due to the mandated limits as to the number of people in the store at one time. Plus, we want to stay careful.
July
Feeling more confident as we finally go "green"! We can dine indoors, but there's really no need as restaurants expand their outdoor spaces and the weather is delightful. Cases are on the decrease. Our summer clothes are going fast!
August
What's this we are hearing? They are talking about a possible "surge" in the Fall. No way, José! We feel almost normal again. But questions loom: will schools open back up in September? Will work-from-home end? When can we stop wearing these darn masks? Business is slow as people grapple with the unknowns.
September
Schools and colleges open again, most with a combination of remote and in-person classes. Couples plan last-minute, smaller weddings. The virus is still at bay. All is well and business is good. Our guests are excited about their new fall wardrobes! It's perfect sweater and jacket weather, and dining outdoors is still fun and cozy.
October
Welp, it's October and still no surge! Yay! We're going out with more confidence and some of us are eating indoors. Travel plans resume, and we're feeling pretty good about things overall. Airfares are so low! In observance of Breast Cancer Awareness Month, Intrigue partners with local non-profit Pine2Pink and donates 10% of special jewelry sales to benefit local cancer patients and survivors. We're on the upswing!
November
Ugh, here we go again. The virus is resurging in various parts of the country, including our own. Health experts tell everyone to stay at home as much as possible, warning that travel over Thanksgiving and Christmas will cause a "surge within a surge". Say what?? People are starting to get nervous once again. Thank goodness we have Black Friday, Small Business Saturday, and Cyber Monday to kick off the holiday season.
December
Whew, just a few more weeks till we can kiss this godforsaken year goodbye! In spite of everything, customers are in the holiday spirit and searching for those perfect gifts. Intrigue to the rescue! We literally embody the concept of one-stop shopping.
As we close out the year, and welcome 2021 with open arms, we want to again express our sincere and heartfelt gratitude to all of our guests. You are part of our family. We are looking forward to putting the past behind us, and moving forward with optimistic hearts. May we all have a happy, healthy – and hopefully fashionable – New Year!
####