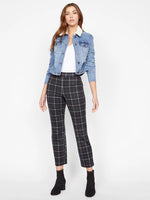 We're not trying to rush summer, so no pouting please, because…fashion forward opportunities are fab for fall!  While exercise levels are on the rise, fashionable masks are hiding our faces, and water cooler chats continue to take place on Zoom, one thing is for certain…Fall will arrive!
With that thought in mind, transitional dressing is pretty simple, moving us seamlessly from Summer to Fall.  Adopt a few fashion rules to up your styling skills, and voila, the new You appears!
In case you're wondering where to start..begin by editing-out strictly summer pieces like linens and capris; make way for fine gauge cashmere and varied length leggings.  Got it…Let's go!
Classic Shirt:  Remember as temperatures fluctuate from A.M. to P.M., sleeves roll up or down to create chic in all weather!
Bottom Bets: What's hot, what's not…You can't go wrong with denim!  All legs are in from 3/4 mini boot-legs, to skinnies, to the classic trouser…try them on for size!
Layer-up:  We all love this concept! It's the best for travel, and taking your look from day to evening with one single addition…the jacket or new wave duster!
Shoe Swaps:  Nail transitional dressing by stepping-up your footwear.  Feminine strappy and favorite boots fill all the voids!
Revive yourself; rehab your wardrobe; refresh colors; regenerate for Fall!
Shop early, Shop often…Your transition awaits…We've got you covered!