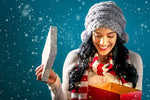 We've all been here >> You excitedly unwrap a gift, that moment of delicious anticipation, and then...what? You're secretly deflated. Why would (fill in the blank) think I would like/want this? 
Shopping for gifts for your female friends and family is harder than it seems. My friends think I'm impossible to shop for. I don't know, maybe it's true. In all honesty, I'm always thrilled to receive very pedestrian gifts. A nice bottle of white wine. Home-baked goods. A box of beautiful macarons. A gorgeous-smelling candle. Winner winner chicken dinner! 
But I'm getting off topic. When it's my turn to be the gift-giver, I find that it's difficult not to fall into the trap of projecting my own taste onto the gifts I buy. Doing this is almost always a mistake. Your gal pals may love and admire your taste...when it's on you or in your home. But that taste might not translate into what's right for their lifestyle or what makes them feel most comfortable, happy, and/or beautiful. So I tend to think very hard about the personality, taste, and lifestyle of the giftee in question. 
Now, I'm not suggesting that you purchase gifts that you practically have an allergic reaction to, even if you think the recipient will like it. That's wrong too. The tricky balance is finding something that speaks to what she loves, but contains an element that you appreciate even if you wouldn't buy it for yourself. Your gifts should say "I selected this especially for you, with careful thought and love". 
Examples: I love statement jewelry. I'm literally drawn to it and I've been collecting it for years. But I have only one girlfriend who appreciates it like I do. And even her taste differs slightly from mine. So I rarely purchase it for a gift. See? I told you it was complicated!  
So, do I have the perfect solution? Are you kidding, of course I don't! If I did I would have written a book and gotten rich. Instead I thought I'd have a little fun on the blog with the concept of figuring out what type of gal you're gifting, and offering you some gift ideas from Intrigue. Is it a foolproof method? Heck no, but it's fun and it often works out great, so play along with me. (Note: some items listed are not pictured in the collages so you'll want to click on the links). 
Type of Gal: Sporty Spice
Loves: The outdoors
Gift Ideas:
 Type of Gal: Rocker Chick
Loves: Edgy glam
Gift Ideas:
Type of Gal: Modern Romantic
Loves: Everything feminine
Gift Ideas:
Type of Gal: Cozy Nester
Loves: All things soft, comfy and cozy
Gift Ideas:
Type of Gal: All-Out Glam Girl 
Loves: Sexy sparkle and shine
Gift Ideas:
I hope at least some of your "gals" are on this list! If not, there's always the bakery and the wine store. 
 ~~~~