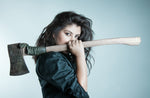 I see it all the time. A guest tries something on, comes out of the fitting room, looks in the mirror and says something along the lines of "It's too baggy", or "It's just not doing anything for me" or just "Nope". Often, I must beg to differ. For I don't see it that way at all; I see the difference that a simple style hack can make. So I've identified five of the most common and useful fashion hacks that can change your life. This is not a tutorial per se (for that you can go to YouTube). Rather, these are some suggestions, along with examples, for new ways to think about the way you wear your clothes.
When you buy an item or a whole outfit, consider it merely a canvas upon which you can put your own stamp of creativity. Following are some of the most common ways that I have taken an item of clothing from "meh" to "yeah!". 
 1. Belt It
Dresses that hang straight down from the shoulders, whether slim or full, are very much on trend, but they can often look shapeless. You can turn them into a waist-defining wonder with the simple addition of a belt. Likewise, you can completely change the look of your blazer or long cardigan by belting those items as well.
Another trick I like to do is to replace the "self-belt" (usually a tie belt that comes with a dress or sweater in the same fabric) with a leather belt. It's so much more personal, and elevates the look. Not to mention that a regular belt will stay fastened all day, whereas the tie belts often loosen up over the course of the day.
2. Tuck It 
Learn to master the "French tuck", which mainly involves (gently) shoving the very front of a shirt or sweater into your pants (or skirt) while leaving the sides and back untucked. Achieving the right amount and proportion of tuck can be tricky, and sometimes takes some playing around. As a rule of thumb, tuck first, then pull it out just a bit to create the perfect casual tuck that doesn't look forced.
3. Loop It
This hack comes in handy when your tee shirt is long and/or baggy and you want a more polished look with your jeans. Gather the front hem of the shirt to one side, then loop it through the front beltloop of the jeans and pull, fluffing out the fabric that's sticking out. Make sure you've bloused the body out a little too, as pictured here. 
4. Cuff It
Personally, I don't at all mind a skinny jean that "puddles" around the ankle. But to be honest, that look only works with skinnies, plus many women prefer a neater more streamlined look.  Or sometimes you want to showcase a terrific pair of shoes. Showing a little skin at the ankle can elongate the look of your legs when worn with a heel. Whatever the case, you'll want to cuff your jeans.  
Remember you can also cuff the sleeves on your tops and jackets, as shown here. 
5. Accessorize It
Don't take the lazy way out! Accessories take you from a blank canvas to a finished work of art. Consider your look from head to toe. Sure, you can easily just throw on a sweater and jeans, slip into a pair of boots, and call it a day. But how much more visually interesting is it to add a scarf, a belt, a pair of earrings and a bag? Now your outfit is complete. Even dresses - the original "one-and-done" outfit - can benefit from an interesting necklace, earrings, belt, bag or topper (just not all at once please!). 
Bonus Tip: Unbutton It!
For the love of all that is holy, ladies, you do NOT need to button or zip every single one of your jackets. Now, obviously if it's cold weather outerwear, you want to button or zip it to keep out the cold. But blazers, cropped jackets and anoraks look less stuffy and more "I just threw this on" when they are left open. Witness Annette below, in a zipped up moto jacket, then in the unzipped version. 
~~~~
I know some of you already use these hacks on a daily basis, and to you I say thank you for representing! It's always a pleasure to see you so put together. For the others to whom this is new, I hope this has given you food for thought and you'll consider trying some or all of these hacks and incorporating them into your daily life. You'll look and feel better, and best of all you don't necessarily need to spend any money to do it. Chances are you already have everything you need right in your closet. And of course if there's anything you do need, you know where to find us :)