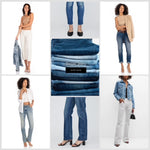 This Spring, Intrigue is ALL about the Denim. When you think about jeans.. your mind goes back to the standard Levi's from the 1960s. Levi set the original standard for denim material and the multi-use wear of the sharp pants from decades ago.
Over the years jeans have evolved to be something that can dress up or down. It's no longer unacceptable to wear jeans to a fancy restaurant or a corporate event. Why? Because designers like Moussy, Pistola, Frame, Fidelity, Modern America & DL1961 have upped the ante when it comes to fashionable denim. And of course, Intrigue carries them all!
"We listen to our clients' wants and needs. We hear what they are saying, and then we throw them in the dressing room with a slew of options that suit their frames!" "Often a woman will walk out wearing a jean that she never imagined would look good on her, and she simply looks and feels fabulous", says Annette.
At Intrigue, we are fashion consultants. We live and breathe the fashion world. We have been doing this for 35+ years and absolutely love it. This is our industry and our passion. We can dress your grandmother, your mother, and your college graduate. We have an eye for all ages and we carry a selection second to none in Bucks County.
In honor of National Women's Month, we want to point out the fact that women are unique. We are complex but in the very most special of ways. Women are dynamic. We are mothers, sisters, friends, professionals, wives, girlfriends, and caregivers. We are the pulse that keeps society moving on so many levels.
To feel our best and give to those that matter most in our lives, we have to "feel" good ourselves. This comes with self-care. Self-care is multifaceted. We start with the individual. Countless times a week we hear stories of women's lives, as they walk through our doors happy, sad, disgruntled, and unsure. We meet them where they are. We listen. We form relationships. We cater to them and you leave feeling good.
Dressing is a true expression of how you feel inside. We want to assist in the overall expression that fashion can bring to uplift your innermost spirit.
This season, come to see Annette, Debbie, and our fashion coordinators. We have color! We have patterns! Flowy dresses, form-fitting ones, cute T-shirts, heels, and jeans.
Jeans are all the rave and investing in them is key to having that staple in your wardrobe that you can pull out to run your local errands or to have a night on the town. Find a pair that suits your curves and accentuates them!
A few brands that stand out to us are as follows:
The big look on the runways this Spring is denim and blazers! Dress them up with some heels or dress them down with a cute pair of sneakers. We have pops of color for blazers, or we have muted neutrals. All the colors to dress you for where you want to go and be this season of 2023!
The important thing we want to stress is, we love all women, of all sizes and all ages. We are the local Bucks County boutique that is here to accommodate every woman here. We feel good about that statement and we mean it. We love what we do, we can't imagine doing anything else. 
We challenge you this Spring. Come in, leave your worries at the door, and allow us to "Dress" you. We have the selection and most of all the HEART to do it. We care about our clients, that's why we have been dressing you all for over three decades.
Visit us on Instagram & Facebook for our daily posts and outfit combinations. Come in and see us! We are waiting….
Love Always, 
Annette & Debbie
Xoxo 
~ Written by: Danielle Gannon                                                      Local Spotlight with Danielle                                       @localspotlightwithdanielle