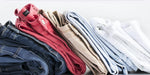 1. Wash Your Denim Less (Or Not At All!)
We love not having to wash our clothes every single day, and that's the beauty of denim! Spot clean your denim if it gets dirty. You can also leave them outside to air them out. This way, less water is used for washes and it takes longer for the denim pieces to wear out or fade. When your jeans start to get baggy or your denim gets too dirty, wash pieces and hang them upside down to dry.
2. Use a Mesh Bag for Dedicates
Washing your dedicates only to find a hole in them once you pull them out of the wash is the absolute worst. Avoid these accidental holes on delicate items, such as undergarments and pieces with lace, by investing in a mesh bag. Place delicate pieces in the mesh bag before washing, and hang to dry!
3. Wash With Distilled White Vinegar
Who knew that cooking supplies could actually come in handy when washing clothes? If you are looking to brighten up your clothes without using harsh chemicals, wash with distilled white vinegar! Pour half of a cup in your wash to use as detergent, or simply use it during the final rinse of your clothes as a substitute for fabric softener.
4. Declutter Your Wardrobe
We totally get it. Sometimes it's hard to part with your favorite sweaters and dresses! Unfortunately, keeping all of your clothes too squished together can actually wreck them. Not only does a completely packed closet add wrinkles to items, but clothing with zippers and buttons can accidentally catch on one another.
Now that you've learned how to keep your clothes looking fresh and new, you'll be able to wear your favorite pieces for years to come because Intrigue Fine Apparel is all about investment dressing!