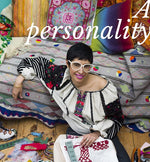 Meher Kakalia, born in Karachi, left her home town to study in London. After a few years in the world of Finance, she left the City to pursue a more creative career. Her idea was to design an original collection of shoes based on her country's rich tradition of hand embroidery and shoe making. With this in mind, Meher launched a fresh collection of hand crafted shoes, often using colour in the most unexpected way.
In order to achieve her dreams, she had to set up her own workshop and spent time searching for master craftsmen. A real challenge that Meher has achieved in an incredible way by remaining committed to her respect for tradition, empowering women, using sustainable and recycled material, limiting the use of toxic glue and most of all her love for fashion. Meher currently lives between London, Karachi and Moscow with her lovely family.
Shop The Collection at Intrigue!