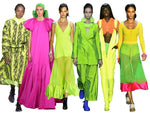 We're so excited about the Spring 2020 Season and we know you will be too! Designers gifted us with collections that were the perfect marriage of wearable and innovative. Trends you'll see highlighted below are the ones we are seeing repeatedly throughout the collections arriving daily.
These trends are the most digestible and Intrigue predicts they will be heavy hitters all season long. Our list includes an assortment of styles that are equal parts of fresh and nostalgic.
With that being said, it is with great anticipation that we present to you our official spring/summer 2020 fashion guide. Just keep scrolling to dive in.
Neons
Runway
Reality
Electric Lime, Sunshine Yellow, Shocking Pink and Outrageous Orange aren't just our favorite highlighter colors. These vibrant shades are making a bright statement this spring. Pair with black, neutral or white and you will be sure to stop traffic.
Psychedelia
Reality
Remember that eye catching wallpaper at your Grandmothers in the 1960's? Well this nostalgic trend brings both major color and pattern to all the top designer collections. Pair it with a basic solid and it will take you back to your inner childhood threads. Groovy!
Le Polka Dots
Runway
Reality