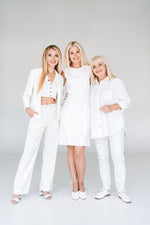 "This Mother's Day, let's celebrate all the amazing moms out there by encouraging them to take a little time for themselves and embrace some fashion and style."
As we celebrate Mother's Day, it's the perfect time to acknowledge all the amazing moms out there who make our lives better every day!  At Intrigue, we are all about FAMILY. Annette & Debbie, the owners, are sisters and opened this boutique because of their beautiful Mother's influence.
They always told their Mother, we created this store, so we can dress you! The reason was, their mom made all of their clothes when they were younger. From dresses to coats to swimsuits, even curtains and everything in between! Money was tight in the 60's, so the girls always watched as their Mother bought bulk fabric and created outfits for all the sisters. As all of us women know, we take pride in dressing our children. Great pride! And we are so proud to have had that story shape who we are, as well as be a space in Bucks County to dress generations of women in the same household!

As a way to celebrate, we thought it would be fun to give some fashion tips to help all of our moms feel stylish and put together this spring!

First, let's talk about accessorizing. Jewelry is always a great way to add some sparkle and shine to any outfit. This spring, we're seeing a lot of statement earrings, from oversized hoops to beaded drop earrings. Layering necklaces is also still very much on-trend, so don't be afraid to mix and match different lengths and styles.
Belts are another great accessory that can instantly elevate an outfit. Whether you're cinching a flowy dress at the waist or adding some shape to a boxy blazer, a belt can do wonders for your silhouette. This season, we're seeing a lot of thick, chunky belts, classic chain belt designs.

As for bags, ( which may be our most important accessory as mothers) we always need a reliable purse to carry all of our essentials. This spring, we're seeing a lot of oversized totes and shoulder bags, perfect for carrying everything from diapers to laptops. Woven designs, as well as bags made from sustainable materials such as raffia and bamboo, are also very popular. We have crossbody, clutch, and oversized styles! Let's find what works for you.

Spring is the perfect time to embrace some lighter fabrics and brighter colors. Flowy dresses and skirts are always a great option, especially when paired with strappy sandals or chunky sneakers. If you prefer pants, wide-leg styles are very trendy this season, and they're comfortable and flattering for all body types.

Then, there's the hot topic of sustainable fashion. By choosing brands that prioritize sustainability, we can make a positive impact on the environment while still looking stylish. Many brands now offer eco-friendly clothing made from materials such as recycled plastics and organic cotton.

As moms, we often put ourselves last when it comes to fashion and style. But taking a little time to accessorize and choose some stylish pieces can do wonders for our confidence and self-esteem. And with so many options out there, it's easy to find something that fits your style and makes you feel great.

So, this Mother's Day, let's celebrate all the amazing moms out there by encouraging them to take a little time for themselves and embrace some fashion and style. Whether it's a new piece of jewelry, a stylish belt, or a dress, we have something for everyone. Remember, you deserve to look and feel your best, no matter how busy your schedule may be.

Here at Intrigue, we make dressing and accessorizing fun and easy. It's a great way to celebrate all the moms out there! Make a day trip out of shopping here with us, then head over to New Hope for lunch. Or utilize that gift certificate for Mom. Let her come in and spoil herself with a personal stylist assisting her the entire time.


Here's wishing all the moms out there a very Happy Mother's Day full of fashion, style, and lots of love.

As Always,
Annette & Debbie
xoxo
~ Danielle Gannon, Local Spotlight with Danielle