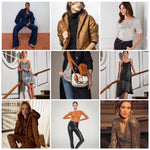 The leaves are falling, the mums are popping, the weather is dropping and YOU need to dress up to stay warm and of course in STYLE! 
This month we have been hustling and bustling to get our boutique in gear for the cooler days and nights ahead. Our shop is dressed with the most beautiful attire to dress you up and get you out on the town. We have a huge selection of jackets and coats that will keep you warm and trending. Pinks, creams, emerald greens, leathers and faux fur.. we have it all. 
An outer layer, often was just set with the intention of keeping you warm, but this year, our coat game is off the charts! We have shorter fur jackets in a rainbow of colors, some flat and some ribbed. Some long and some short. We have long Pea coat styles that tie, some that snap and others that button. Leather is always in, but this year it's a staple! Leather leggings, jackets and tops. Wear them all together for a sleek sophisticated look, or mix them with denim or spandex. The style this season is sexy! Come let us adorn you in the look that suits your best self.
Thanksgiving is weeks away, and not only does that mean a beautiful outfit for the day of, but it also means the season is here! The Holiday season! Soon, we will see all the twinkling lights as we drive all over Bucks County, the sparkling Christmas balls and the smells of evergreen. This is our favorite time of year. It marks the end of another wonderful year and a time to celebrate our family, friends and loved ones.
Think of all the excitement that lies ahead over the next two months with Thanksgiving, Hanukkah, Holiday parties and New Years! We see leather leggings and a sequin sparkle top, some lace and a Faux Fur on top. Some beautiful bling from Frida Rothman on your wrist or some funky metal black earrings from our local artist Erin Steele. We see sleek denim and a light sweater with squared heel boots and a long peacoat for holiday lunches. A mid calf dress ties at the waist and a stiletto for those holiday cocktail parties!
Then, where are our snow bunnies? Whether you enjoy hitting the slopes, or observing from the lodge with a glass of your favorite red by the fire… we have you covered! Leggings and a top from Commando, with a puffy vest or jacket from Marella would be the perfect touch. Top your head with a fur bucket hat from Echo and some puffer gloves, you're layered, cozy and sophisticated!
We are a holiday gift destination! Plan ahead and get your "Wishlist" complete, so you can "hint" to that special someone in your life, that they can find exactly what you desire, here at Intrigue. Our stylist will walk the store with you, as you pick out your favorite pieces. We will create that special list for you with all the right size and color detail, then when your person arrives, we pull the list and get to shopping!
Small Business Saturday is a big day for all small businesses around the US. It always falls the Saturday after Thanksgiving. This year, November 26th, is where we celebrate the hard working American dreamers that make America what it is. A country to be, do and have whatever you can dream up! Here at Intrigue, we have been doing just that. For 35 years and counting! And we are family run. Two sisters, Annette and Debbie, making it happen for over three decades. 
That day, please join us for some special treats and a glass of Prosecco. Pick out the articles that you need to be in your best light and then pick up a few items for those you want to spoil this holiday season! As we always say, "One for you and one for me"!
Gift items we carry under $100 are some cute faux fur gloves, hats and scarves. We have little pouches for makeup, money or small items that are covered in bling!  And under $150, we have Think Royln crossbody bags, perfect for all ages.
Celebration is all about energy and enthusiasm for what is. This season, we want you to celebrate in ALL the ways. Celebrate you, where you are in life, the life you have, and those around you. We are all here to enjoy this one sweet life we are given. The energy is high here at Intrigue, we are grateful for you, our clients and friends. Thank you for giving us so many wonderful years, here in Buckingham.
Cheers to the last quarter of 2022! Let's make this our best one yet. See you soon!
With love, admiration and appreciation, 
Annette & Debbie
~ Local Spotlight with Danielle
@localspotlightwithdanielle