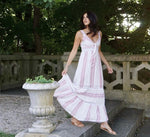 Maxi dresses are SO in right now and have been for the last few years. They are Flattering AND Feminine! They work for all different body shapes. Don't get caught up in the belief that only the tall & slender can wear them., they are suitable for all. 
When I hear the word Maxi, I picture a long flowy dress, often touching mid calf to above the toe line. Like this one:  Hale Bob Embroidered Maxi
This is perfect for a night out at Stella in New Hope, or sitting on the deck at Odette's, overlooking the river. It's light and airy, but provides that coverage for the chillier evening.
They're light and breathable, and often can be dressed up or dressed down. See how this funky Maxi was paired with sneakers, but you can imagine how a nice wedge heel would spice it up!  Desigual Viena Print Maxi Dress & Desigual Tulum Embroidered Maxi
Hutch has you covered with Daytime wedding receptions too. Hutch Kiera Dress & Hutch Milo Chiffon Dress
Let's talk casual & let's be comfy. Commando butter maxi dress. This dress is sleek, has a good neckline and is simple. It's a comfortable material, covers your legs but shows your arms. Throw on a simple sandal and a pair of studs, you're good for brunch. 
Now let's talk about the night out on the town. Still comfortable, but classy. Look here at this ruffled sweetheart neckline and playful, bright floral print.  Caballero Thandi Maxi Dress
Wear with or without a bra. No zippers make this dress effortless to step in to, and comfortable to wear. Pair a strappy sandal with a little heel and Wa- La, you are in STYLE and so ON TREND.
A good rule of thumb is, if you're petite ( under 5'4"), it's best to grab a Maxi that goes to the ankle or top of the foot. Any shorter, you look boxy. Any longer, you're walking on it. Tall girls, mid calf to toe and anything in between. They really accentuate your length, and flatter your body.
Picture this: you're on a beach, waves are crashing in the background. It's sundown and there YOU are, lounging on a chair, big brim hat, some Jackie O sunglasses, your the cat's meow: Krewe Aubry Nylon Black Sunglasses, a pair of flip flops and a Pina colada. You're feeling so good because you are comfy and chic at the same time. Now, you're heading into the resort for dinner and dancing. You stop up to your room, throw on a chunky heel and a blazer, leave the hat & sunglasses behind and snag your spot at the bar.
Maxi's have been around since the 70s, and for good reason! They're a staple for your wardrobe. They're comfy, flattering, feminine, versatile and classic. Each spring season, I add another couple to my collection. The good news is, you can change the shoe and accessories and have a totally new look.
As always, Intrigue has the finest selection for all things Feminine and this month we are focused on Maxi's. We have SO many in stock. Solids, patterns, florals, cotton and satin. Come on in, meet with our stylists… we've got a glass of Prosecco waiting for ya!
~ Danielle Gannon
Local Spotlight with Danielle